April 2023
published: 2023/04/24
Giegold & Weiß
FTM vs HIV
Ausstellung/Exhibition
Opening on Saturday 29.04.2023, 6pm
Opening Words, Drinks, Snacks, Music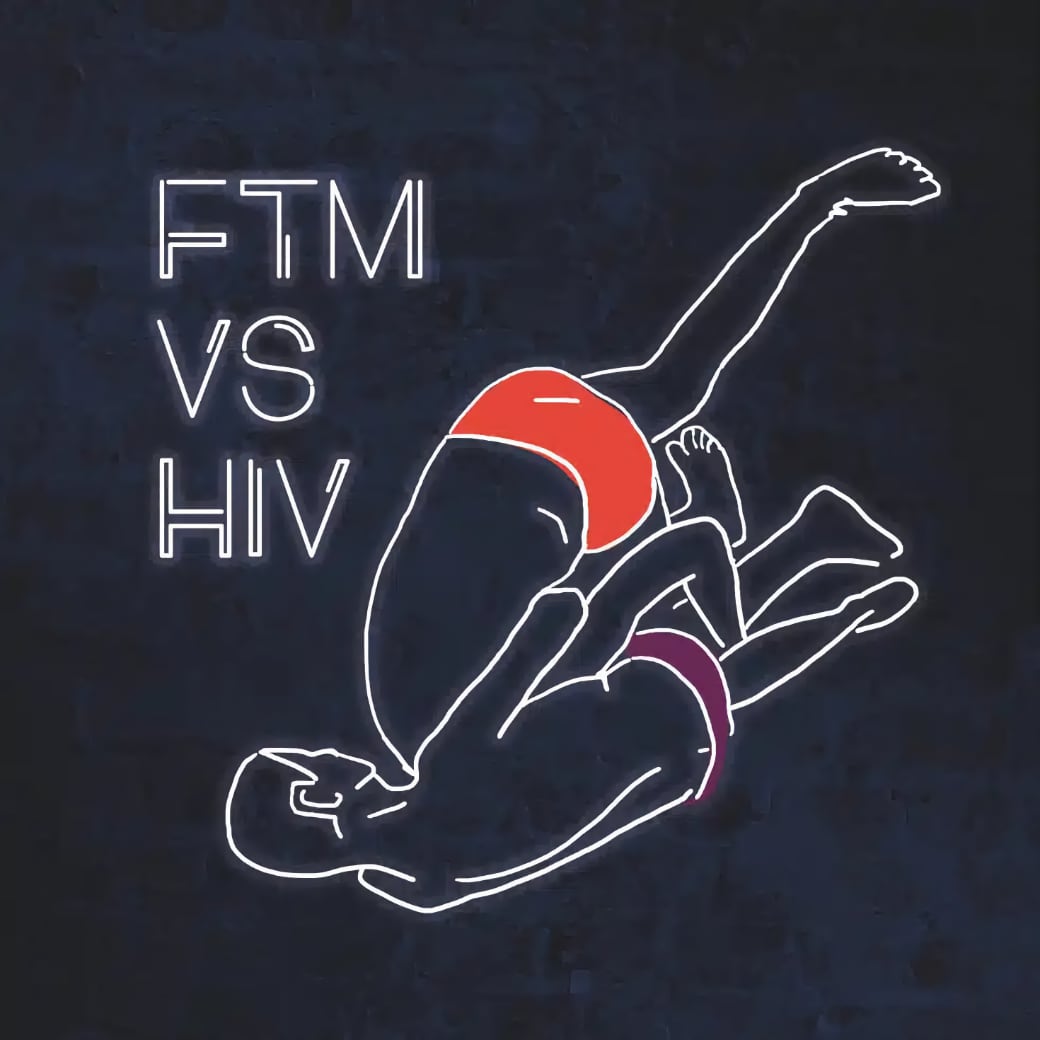 We would like to celebrate with you! Saturday our exhibition FtM vs HIV – medical Lubewrestling opens in the unique spaces of Checkpoint Berlin.
Whoever has seen our shows of the last years – Future Spaces/Zukünftige Räume, Genitals on Trial, (…) – will notice that this small exhibition works differently. But we will discuss this with you on Saturday with champagne and canapés, e.g. in front of the wonderful photographs of Alexa Vachon.
Come in large numbers and enjoy the sound of DJ Dirty Daddy Don. We are also very happy to have Alexander Hahne joining us. He brings current words about the wrestling matches, tells us how the 'HIV vs Transition' battle is situated and why stigma and chlamydia have a rather cheerful relationship.
FtM vs HIV features highlights, photos, notes, objects, and quotes from a process on trans* & non-binary health on the mat and in practice, borne of those involved. As well after the vernissage, the exhibition is a good opportunity to stop by at Checkpoint Berlin and the ITB/inter* trans* Beratung.
FtM vs HIV – medical lube wrestling
Giegold & Weiß 2020, 2023.
Exhibition: 29.4.-16.6.2023 Mon-Fri 2-8pm
Vernissage: Sat, 29.4. 6pm
Opening words: Alexander Hahne, Lena Klatte for Checkpoint Bln & ITB.
DJ: DirtyDaddyDon.
Involved: 4 Angry Dykes, AK AIDS e.V., Alex/Lautaro Apolinario, Max Appenroth, Birgit Bosold, Denice Bourbon, Magz Barrawasser, Salty Cheri, Sir Damien, Yori Gagarim, Marek Sancho Höhne, Interflugs, Jamie Janicek, Kallia Kefala, Collin Klugbauer, Lotte Knold, Lane, m-50, Martina Kock, Kornelia Kugler, Martin Muz, Panda Ortmann, Praxisgemeinschaft Turmstraße, Mayan Printz, Laurette Rasch, Idán Sagiv Richter, Sylvia Sadzinski, Elliat Graney Saucke, Schwules Museum Berlin, Todd Sekuler, Senatsverwaltung für Kultur und Europa, SoundSysters, Jack Thompson, Trans*genderradio Berlin, Viola Vabulous, Alexa Vachon, Ajay Wanker, Arne Weiß, Helgard Weiß, Ulrich Weiß, Zara Zandieh.
Location: Checkpoint Berlin, Hermannstraße 256-258, 12049 Berlin, 3rd Floor with lift.
https://checkpoint-bln.de/ftm-vs-hiv/
Giegold & Weiß
Instagram #giegoldweiss